Minivan vs. Truck
A truck hogging the fast lane, a minivan forcing its way, the female passenger instructing the dashcam driver not to stop… TiT, as some would say.

Dangerous stunt
Thai teenager doing his best to help his country remains in the top three of the world's most deadly roads.

Very young girl driving a motorbike
Amazing Thailand! A father lets his little girl drive the whole family on a motorbike. She's even not watching the road.

Compilation of accidents
Not for the faint hearted, dashcam and CCTV footage showing various accidents on the roads of Thailand.

Don't speed
A funny (well, sort of) Thai road safety ad, with English subtitles.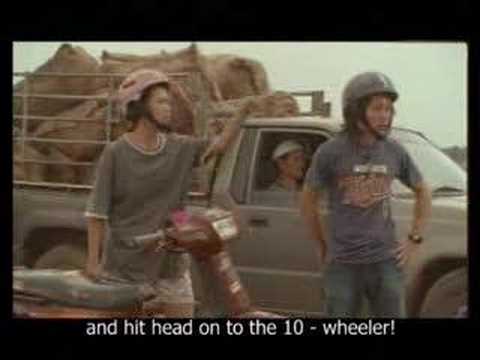 9 yo driving herself to school
This is a 9 yo driving herself to school while her proud Dad is filming. The video created quite a stir on social networks at the time, even among Thai users.

No more mai pen rai
This clip comes from a government organization and it's quite remarkable, because it's basically Thais saying to Thais: quit the "mai pen rai" attitude when it comes to safety. There are variations of this video on this Facebook page. In this version, it says: "Maybe you think like them: it's no use fasten your seatbelt. We're almost there anyway. Or: it's uncomfortable. Fortunately this kid didn't think like that. But what about this one?"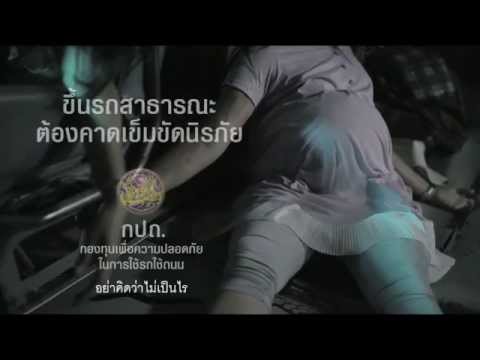 Thai parents of the year
A toddler left alone at the back of a pickup falls down the road

Close call for a motorbike driver and two incoming cars
Overtaking on the opposite lane with zero visibility! Also notice the dumb truck driver sticking on the right lane instead of keeping left.

Give way to ambulances, FFS!
This is a spot to try and teach Thai drivers to give way to emergency vehicles. In this video a Thai driver is pondering whether to give way to an ambulance, while eventually the patient dies and it happens to be her own mother. Yes, quite improbable, but the message is clearly conveyed: "Does it have to be someone you know who dies in an ambulance before you understand you must give way?"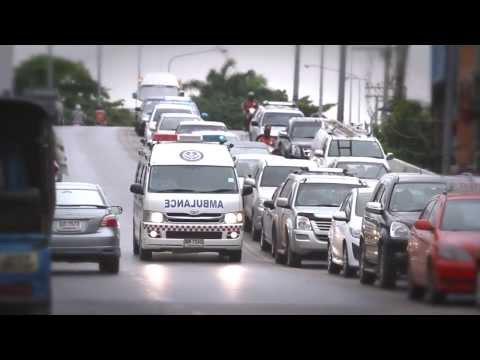 Oh, and I couldn't resist. Thai people, watch this, this is how they do it in Germany, where EVERYBODY gives a damn about a life being saved: